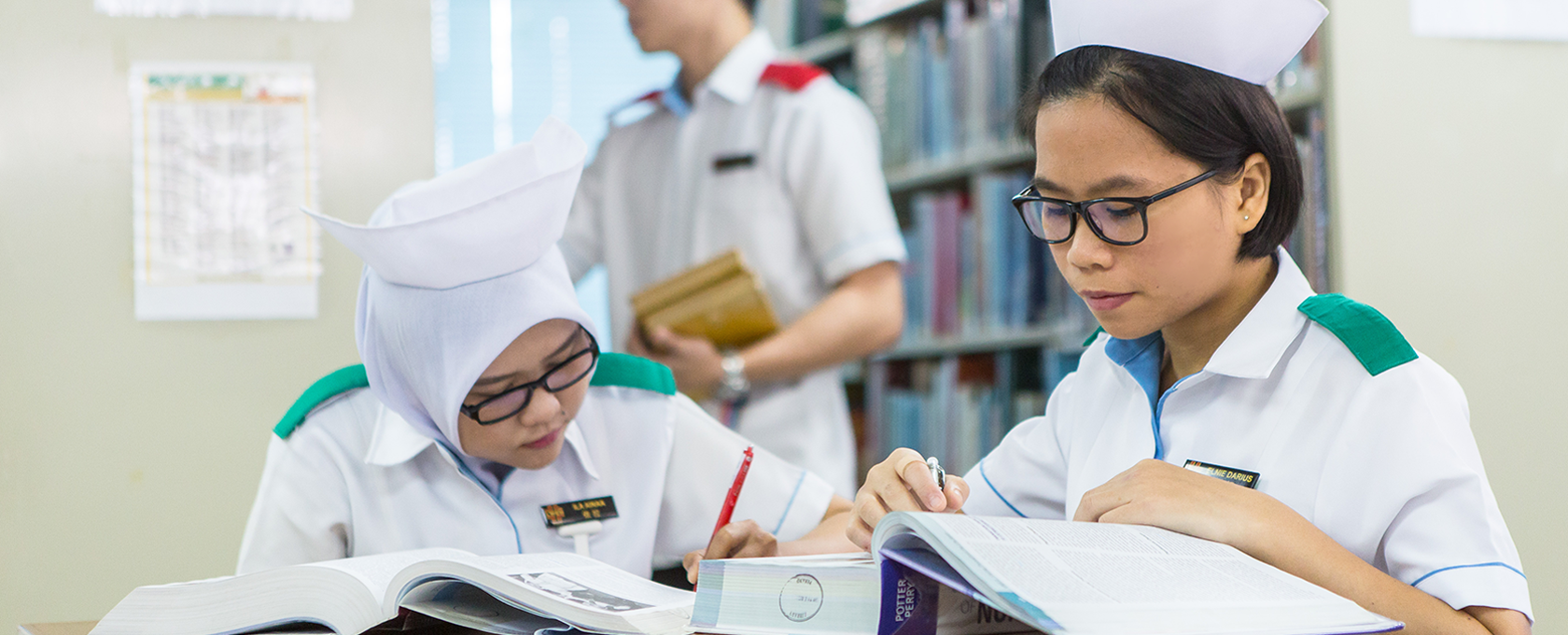 Diploma in Nursing (R3/723/4/0090-08/24)(MQA/FA 9104)
The 3-year Diploma Nursing Programme equips students with knowledge and skills based on scientific principles and standard operating procedures to provide quality and holistic care to clients in the hospital and community.

On completion of the programme, graduates should be able to apply critical thinking skills and nursing process in the delivery of care. They should also be able to communicate effectively and work collaboratively as a team with clients, families, other healthcare professionals as well as the community.

Graduates should be able to demonstrate caring attributes, teamwork, professionalism, and continuous quality improvement as members of the healthcare team. They should also be able to contribute towards the betterment of the community through healthcare-related activities. Graduates should assume responsibility in personal and professional development and pursuit of lifelong learning skills.
Duration: 3 years (6 semesters)
Health Sciences
Anatomy & Physiology I & II
Microbiology & Parasitology
Pharmacology
Nutrition
Nursing Sciences
Basic Nursing Science I & II
Nursing Science I - X (Altered Systems Functions)
Specialized Nursing Science I - V (Gynaecological & Obstetric Nursing, Paediatric Nursing, Mental Health Nursing, Introduction to Critical Care Nursing, Emergency Nursing)
Community Health Nursing I & II
Clinical practice is integrated in Nursing
Behavioural Sciences
Communication & Public Relations
Psychology & Sociology
Introduction to Nursing Research
Professional Development
Management
MPU Courses
U1 - Malaysian Studies 2
U2 - Writing Skills
U3 - Comparative Ethics
U4 - Community Service
Nursing Practicum
The Nursing Practicum enables students to correlate theory with practice.
Hospital Lam Wah Ee provides the clinical setting for nursing praticum while the health clinics in Air Puteh and Teluk Bahang, Penang provides the community setting for community health nursing practice.
Skills Laboratory in the College provides a practical environment for students to strengthen specific nursing care skills.
The purpose of assessments and examinations is to certify that a nurse is qualified, competent and safe to practise nursing, and that he/she is qualified for registration with the Malaysian Nursing Board.
Theory : Formative and summative examinations
Practical : Clinical assessments
Lam Wah Ee Nursing College Final Professional Examination
Malaysian Nursing Board Registration Examination
Applications are open for September 2022 intake